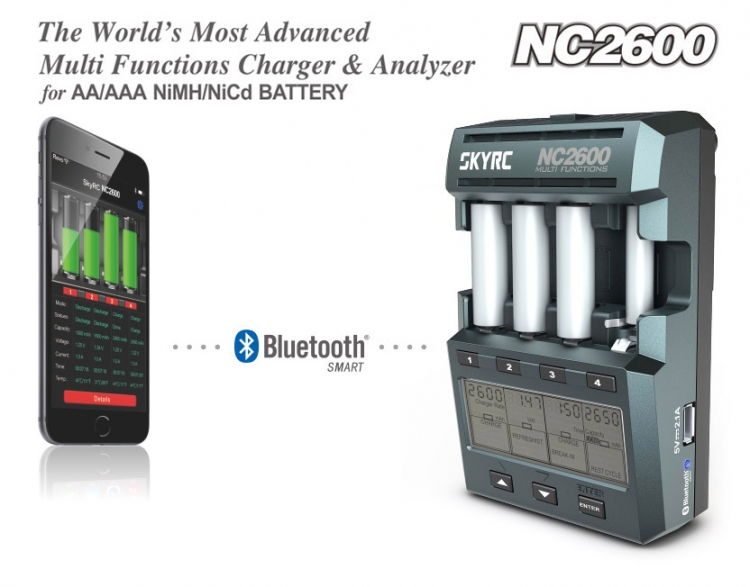 SkyRC NC2600 AA/AAA Battery Charger & Analyzer is more than just a battery charger which can perform a number of different functions. If you are interested in getting optimum power, turbo fast charging (up to 2600mA Charge Current) and the longest battery lifespan, this is an excellent choice for you.
The charger has four compartments for AA batteries and AAA batteries and it is able to charge both AA and AAA batteries simultaneously. Due to different battery capacity, you could set the charge rate accordingly or set all at once. With charging,discharging, refresh & analyze, break-in and cycle functions as well as individual LCD displays for charging status; this charging unit is reliable, user-friendly and ideal for use in the home, office or on a trip.
Four Independent Slots
Supporting both AA and AAA NiMH/NiCd batteries. Batteries can be inserted or taken out easily.
Built-in PTC thermistor
Built-In PTC thermistor to avoid over heat & independent negative delta V eliminates overcharging & discharging.
Damage battery Detection
To ensure safety, the charger performs an "impedance check" at the beginning of the program. If the battery fails this test, "FAIL" would be displayed and program will be terminated.
Intuitive Mobile App
You could control this smart charger by your smart phone via Bluetooth Smart. Operating this charger on your smart phone gives you the best using experience . What's more, more functions (optional Delta Peak Value and Discharge Termination Voltage) and information (battery temp, internal resistance and voltage graphic) are available on you mobile device.
Standard Alone Mode
Smart Phone Control Mode
Charging Current
0.2-2.6A
0.2-2.6A
Delta Peak
5mV
3-15mV
Discharging Current
0.1-1.0A
0.1-1.0A
Discharging Termination Voltage
0.9V
0.5-1.0V
Battery Capacity Range
500mAh-3500mAh
500mAh-3500mAh
Number of Cycles
1-12
1-12
Top off Charging Current
100mA
100mA
Maintenance Charging Current (Trickle)
30mA
OFF, 10mA-50mA
Temperature Protection
55℃
55-70℃
DC Adaptor Input Power
12V/2.5A
USB Power
5V/2.1A
Weight (Without DC Adaptor)
360g
Dimensions (L x W x H)
154 x 104 x 51 mm