e660 60W AC/DC Balance Charger/Discharger/Power Supply
As an upgraded version of e6650 charger, SkyRC e660 is not only optimized and improved in function, but also can be used as a power supply, which achieves a reasonable allocation of power between charging and power supply. With SkyRC e660 charger, you are able to power your DC equipments with separate power distributor (SK-600114-02).
Comprehensive Upgrade with Latest Technology
Ergonomic design ensures easy but comfortable operation.
Protection of reverse polarity, short circuit, over temperature and capacity, escort you each step of charging.
AC/DC dual output, DC13.8V is capable of powering your DC equipments.
LCD display, straightforward and clear interface.
Optimized software, stable fucntion, safer and more accurate.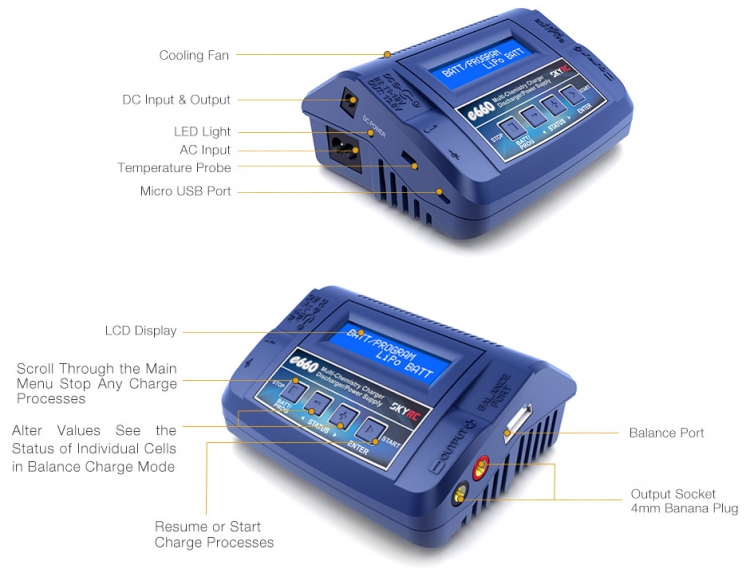 Manually Intelligent Power Distribution
SkyRC e660 charger is integrated with DC power supply function, whose output voltage is 13.8V, and output power ranges from 10W to 60W. Max. AC charging power is 50W.Kindly beware that only when AC power source is connected, power between charging and DC output can be changeable.
Maximum support 50W AC Charge
For example, if 45W is seleced to charge the battery, then only 15W is left to power DC equipments. If e660 is connected to an individual power supply, then DC output function can not be activated, and charging power at this time is 60W.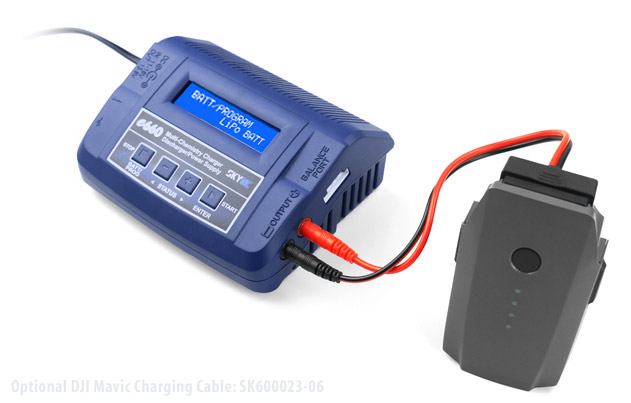 Support Charing DJI Mavic Battery
Good news for DJI Mavic players, SkyRC e660 charger supports charging DJI Mavic battery, function of which helps save time and space (optional item SK600023-06).
Included:
SkyRC e660 Balance Charger / Discharger / Power Supply
XT60 Charging lead
XH Balance adapter
Manual
Specs:
Input Voltage: AC100-240V / DC 11-18V
Display Type: 2x16 LCD
DC Power Supply:13.8V / Max. 60W
Balance Current: Max. 300mA/Cell
Charge Current: 0.1A - 6.0A
Charge Power: 0 - 60W
Discharge Current: 0.1A - 2.0A
Discharge Power: 10W
LiPo/LiIon/LiFe/LiHV: 1-6s
NiMH/NiCd: 1-15S
Pb: 2-20V
Memory: 10 different Charge/Discharge Profiles
Size: 135 x 110 x 60 mm
Weight: 385 g

Varan har lagts i varukorgen!