Bittydesign JP8 1/10 TC 190mm body (Light)
When thinking about the best think about the JP8.
The ALL NEW ultra downforce body shell has been developed with the collaboration of our wordwide team drivers, who participated to the several stages of the project. The JP8 includes all of our experience gained in over 10 years of presence on the racetrack, and the final version of the body requested many changes before reach the perfect shape. To raise the bar we not accepted any compromise.
Tested for several months both indoor and even outdoor on different types of carpet and tarmac, the JP8 body shell represent a new reality for drivers all around the world who race at top levels and always want to obtain the best result with their models.
Product Features
The body respect all the international specs necessary for the approval by the federations, its EFRA, IFMAR and ROAR homologated.
Made with high quality and genuine polycarbonate Lexan®
Included in the kit a complete set of screw, nuts and large plastic washers to fix properly the rear wing
Produced in Light Weight version, thickness of material 0,75mm
Sold clear with protective film outside
Included in the package a few decal sheets pre-cut and windows mask
No Compromise
The JP8 project is born with one main target: create an all new ultra downforce body shell that can be the fastest, always. No matter what final shape and lines the body will have, how it will look, the focus during the designing stage has been pure performance.
LIGHTNESS and STRENGTH! Thanks to an excellent production process, which guarantees a high homogeneity of the material in any area of the body, we have reached a good compromise between weight and durability of the product. Several track tests have revealed excellent impact resistance, giving the JP8's extremely longevity.
The Art of Performance at his best
To achieve the best result possible in term of overall product we have made the most of all our know-how, our experience on the track allowed to us to develop, to design, to engineer and to test for several months a body shell that represent the new future for the 1/10 TC competitions.
The ultra downforce design generate impressive steering as well an excellent rear stability; very easy to push the car at limit, the driving feeling is great both on indoor and outdoors layouts.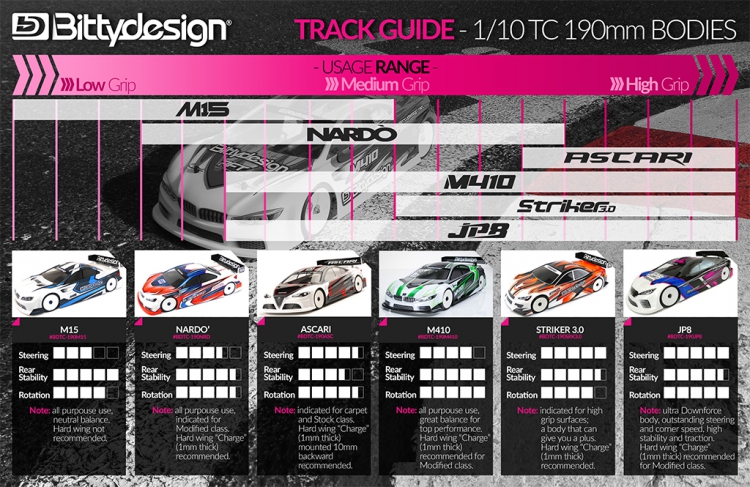 Comparative table 190mm TC bodies line
The image display our full line of 1/10 TC bodies where the 6 different models are compared to each other, both for the range of use of each body based on the surface grip (see white bars In the upper part of the picture) as well as for Steering, Rear stabilty and Rotation values.
The Guide allows a quick comparison between the various bodies and facilitates the choice of the most suitable model depending on the situation on the track.