REA
New in Typhon 6S BLX V2:

New Tactic TTX300 2.4GHz Radio System
New BLX-185 ESC with XT90 battery connectors and new BLX 2050KV Brushless motor
New stronger rear wing mount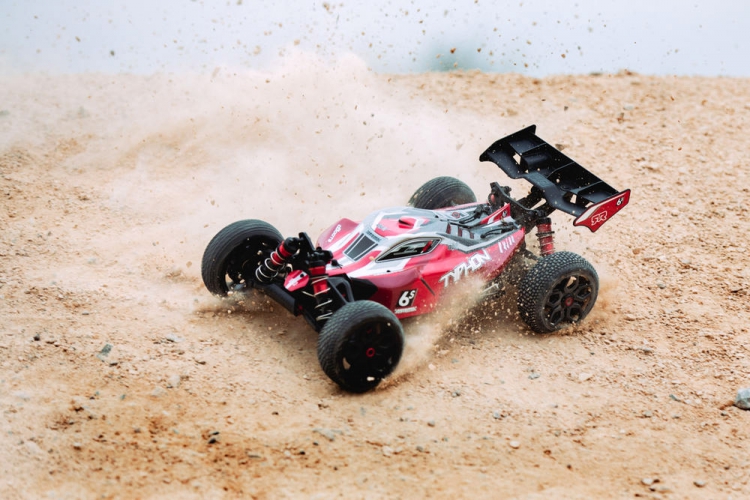 The TYPHON 6S Speed Buggy is the ultimate performance 4WD bashing machine. Capable of tackling the most challenging conditions, from your local race track to a mud drenched bashing spot, the TYPHON 6S is packed with high-power features to blast you into new realms of RC fun.
Styled to turn heads, from the local bashing spot to the club race track, the TYPHON 6S looks serious, straight from the box. Unleashing the equipped BLX brushless system will allow you to master 6S LiPo battery power on a wide range of extreme surfaces. The TYPHON 6S is ready for action.
A low-profile Polycarbonate body shell, and race-inspired multi-spoke black nylon wheels, are combined with a high-downforce rear wing for refined performance in the most extreme driving environments. With track-inspired handling and super-tough bashing build quality, your TYPHON 6S will put you in control of exhilarating RC driving action, straight from the box. Rip up your local dirt bowl, blast across the mall parking lot, launch huge jumps at the skate park. The TYPHON 6S can do it all.
Specs:
SCALE: 1/8
MAX SPEED POSSIBLE: 96+km/h
POWER TYPE: Brushless
BUILD STATUS: RTR
BUILD CONFIGURATION OPTIONS: Mid Motor
DRIVE TYPE: 4WD
VEHICLE TYPE: Buggy
SURFACE: Off-road
LENGTH: 510 mm
WHEELBASE: 328 mm
RIDE HEIGHT: 27 mm
FRONT WIDTH: 310 mm
REAR WIDTH: 306 mm
HEIGHT: 190 mm
LOCKING DIFFS: No
NUMBER OF DIFFERENTIALS: 3
WEIGHT (NO BATTERY): 3.27 kg
BLX185 ESC Specs:
ESC Type: 150AMP Continuous current capacity
Battery usage: 4S LiPo (14.8) up to 6S LiPo (22.2V) Stick Pack maximum
Low Voltage Cut-Off (LVC): 3.2V per cell
Thermal Protection Temperature: 105°C
Over-Voltage Protection: Over 6S LiPo (22.2V)
Length: 57.5 mm
Height: 38.9 mm
Width: 59.5 mm (Including hold-down tabs)
Weight: 196 g
Receiver Wire Length: 200 mm
Battery Wire Length: 165 mm
Motor Wire Length (Including Connector): 130 mm
Switch Length: 29.3 mm
Switch Width: 12.8 mm
Switch Height: 18 mm
Motor Bullet Connector Size: 4 mm
Wire Specifications: 10AWG
Battery Connector Type: XT90
BLX185 Motor Specs:
Motor Type: Brushless 2050kV
Poles: 4
Length: 74 mm
Diameter: 41.7 mm
Shaft Length: 18.5 mm
Shaft Diameter: 5 mm
Mounting Hole Diameter: M4
Cable Length (Including Connectors): 65 mm
Connector Diameter: 4 mm
Weight: 399.5 g
ORD PRIS 4.595:-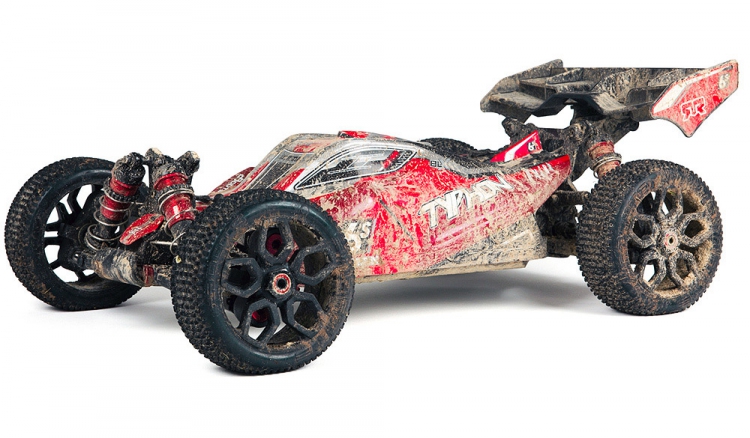 Varan har lagts i varukorgen!